Photogrammetry course for Traffic Police
November / December 1977 P>  
After a series of initiatives for the training and updating of the Urban Police on the use of photogrammetry, in the early 1980s, the Municipality of Bari was the first in Italy to equip the Corps of Traffic police of a Photogrammetric Unit for the detection of road accidents and for the control of illegal building.
  The training course focused on the use of the Wild C120 stereometric camera, for photogrammetric shooting, and of the Wild A40 autograph, for graphic rendering.
---
da "LA GAZZETTA DEL MEZZOGIORNO" di lunedì 19 dicembre 1977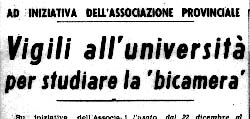 On the initiative of the Provincial Association of the VU UU and in agreement with prof. Antonio Daddabbo, owner of the chair of photogrammetric techniques applied at the Institute of Architecture and Urban Planning of the University of Bari, closed a theoretical cycle of lectures, during which he was illustrated to the city police of Bari and of many municipalities of the province, the use of photogrammetric techniques in the field of road accidents and building abusiveness.
This new technique, almost unknown in Italy, and already followed since 1947 by the Swiss police in the detection of road accidents, consists in resuming with a particular camera called "double chamber" and to store, in a few minutes, the complete and three-dimensional metric image of the scene of the accident and to detect it, later and in the office, with calm and precision, even at a distance of motion time.
The photogrammetry proves, in this way, a technique that helps the policeman in carrying out the laborious task or the reconstruction of the plan of the accident, relieves him of the inevitable errors of human activity and offers him the easy possibility of transferring the entire scene of the accident to the magistrate's table, with absolute objectivity and timeliness.
At this first contact with the new technique, which was attended by agents during the hours free from service, a new phase with a practical and operational background will follow as soon as possible in the context of initiatives aimed at getting better and better organized and qualified the work of the vigilant.